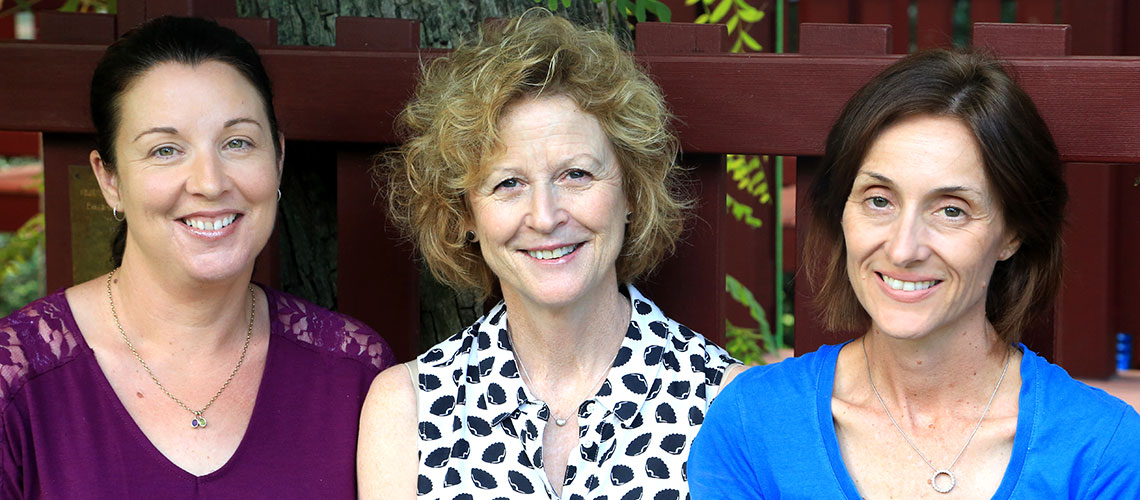 Desley Jones (middle)
Our team of teachers is headed up by Desley Jones (centre) who has many years of experience teaching young children in State Preschools and Community Kindergartens. Desley has worked as the full-time Teacher/Director since 2000 and has built up a wonderful reputation for Ballymore Kindy amongst local families.
Desley has a Diploma of Teaching (Early Childhood), a Bachelor of Education and an Honours Degree in Psychology. Desley also frequently writes articles and presents workshops for early childhood teachers and educators.
In 2011, Desley was the recipient of a 2011 NeiTA, National Excellence in Teaching Award, which honours exemplary teachers in Australian schools and early childhood centres. www.neita.com.au
Karen Curling (right)
Karen Curling is the assistant teacher working on Wednesdays, Thursdays and Fridays and commenced employment at Ballymore in 2009. Karen has a Bachelor of Speech Pathology (UQ) with 10 years experience in this field. Karen also has a Certificate III in Children's Services.
Yvonne Matthews (left)
Yvonne Matthews is the assistant teacher working Mondays and Tuesdays. Yvonne commenced work with us in 2011. Yvonne has a Diploma of Early Childhood Education and Care.
Chris Nicoll

Chris Nicoll, our Administration Manager, is employed one day per week to assist the staff
and committee with the administration of the centre. Chris has a Diploma of Accounting and is a Commissioner for Declarations.