Our Program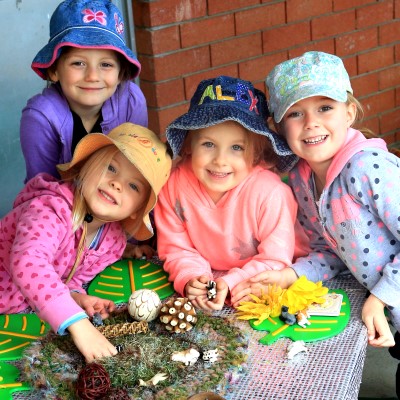 We are a single unit kindergarten offering the following attendance options:-
Monday – Tuesday 8.30am – 4.00pm OR
Wednesday – Friday 8.30am – 2.30pm
We operate in line with the Qld State School term calendar offering 40 weeks per year of kindergarten programs.
We do not have a specified catchment area and all are welcome to enrol at Ballymore Kindy. Families come from surrounding suburbs including Herston, Kelvin Grove, Red Hill, Wilston, Grange, Newstead, Teneriffe, Ashgrove, Spring Hill to name a few.
Our Play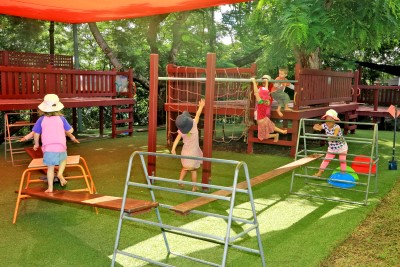 Why is play such an important part of early childhood education?
Promotes flexibility in thinking
Enables children to use symbols and to represent their world in a variety of forms
Assists children to build their knowledge
Fosters language and social knowledge
Scaffolds learning - Helping children jump above their usual level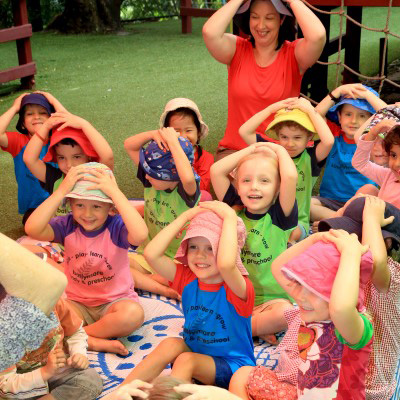 At Ballymore we actively encourage learning and teaching through make believe, or pretend, play. Pretending in early childhood has a far-reaching impact on development, supporting the emergence and refinement of a wide variety of competencies :
Attention
Memory
Language and literacy
Hypothetical reasoning
Problem solving
Understanding the mind and its many activities
Self-regulation
Imagination and creativity
Dynamic environments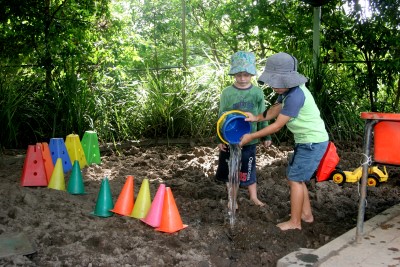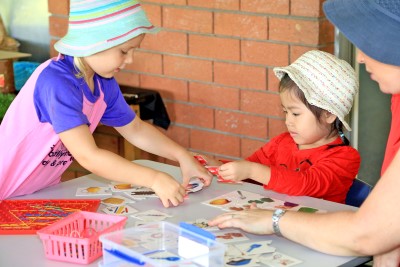 Located alongside the iconic Ballymore Oval, the heart of rugby in Queensland, the kindergarten offers a unique, natural, bush setting for children in inner city Brisbane.
Our children enjoy a spacious facility and a rich natural outdoor environment in which to explore, play and learn.
Our outdoor play areas have been thoughtfully designed to provide a variety of play spaces to maximise children's interest, creativity and participation, while maintaining safety. We offer an environment which includes large shady trees, natural grass and garden spaces allowing us to incorporate nature into our play and learning.
The indoor and outdoor spaces are dynamic environments, changing in response to the children's interests and needs.
Features Include:
Huge mud pit and 2 sand pits
Water play area
Children's garden
Extensive climbing and jungle gym equipment
Obstacle courses and rope swings
Rock quarry
Outdoor pergola for mealtimes
Large painting easels
Shaded by beautiful trees with natural grass lawns
Daily Timetable
Director, Desley Jones puts substantial thought and effort into the daily timetable of children at Ballymore Kindy. The timetable below explains the daily activities and the importance of these experiences in a child's day.
8.30–9.00am Puzzles/stories on the carpet - Our daily program starts at 8.30 with our first group or "meeting" time. We begin our day with a story which helps us to settle as everyone arrives. Our group time provides time for us to say "hello" to one another, helps to establish a sense of "group" and lets us have a chat about play and organise our ideas before we start. On our way to outside play, we play a transition game.
Transition games are great for capitalising on routine times during the day. We plan these games to practise skills including literacy (recognising names), counting (playing our dice game), resilience (waiting for a turn and/or partnering someone you don't usually play with), physical skills (hopping all the way to the lockers).
Outside Play – time to explore our environment including the sandpit, mud patch, gardening, and a range of climbing equipment, as well as experimenting with art materials and establishing games with other children. At approximately 10.15am we meet again to discuss how we can all help at tidy up – building a sense of responsibility and teamwork.
Morning Tea (approx. 10.45am) – both morning tea and lunch are important social experiences for young children. As much as possible, independence is encouraged in managing food containers and making selections from their lunch boxes.
After morning tea and a drink of water the children put their lunch bags away and again we meet at the carpet. When everyone is finished eating, we enjoy music together and a short chat before we go to inside play.
Inside Play is particularly enjoyed by the children. This time allows them opportunity to generate ideas for their "games" of make believe play. These experiences build a sense of agency and competency as well as providing a wealth of experiences in problem solving, interacting with others, using language and literacy to communicate ideas, building creativity, motivation and persistence (all positive attitudes to learning). The games can remain in place for the following days demonstrating to children that their ideas are valued and allowing them to return to games and pursue them to a satisfying conclusion. Inside play continues until approximately 12.30pm. Again we all help to tidy up and gather for a final group time:
Story – a time to share books, puppet or felt board stories, to listen as a member of a group and to share reflections. Story is followed by lunch and our rest/relaxation (not "sleep") time.

FOR 2 DAY GROUP:

After rest the children have Afternoon Tea, outside play, music/story as a group, shoes on and are then doing puzzles or reading books on the carpet until parents arrive at 4pm.

FOR 3 DAY GROUP:-

After rest the children put on shoes and will be doing puzzles or reading books on the carpet until parents arrive at 2.30pm
Affiliation
Ballymore Kindy is affiliated with Lady Gowrie Community Kindergartens